REVOLUTIONIZE YOUR APPROACH IN IMPLANTOLOGY WITH THE INNOVATIVE WEDGE-SHAPED FORM OF REX PIEZOIMPLANT!
Narrow ridges? Problem solved.
The reduced horizontal crestal volume is a common clinical problem in modern implantology. REX PiezoImplant welcomes a new era in the world of implantology, allowing you to manage in a simple and minimally invasive way situations that would normally require regeneration and increase of bone volume, which are not always accepted and predictable.
The unique rectangular cross section follows the anatomy of the residual ridge thus preserving its vascularity and safeguarding the bone.
REX Piezoimplant avoids complex surgical procedures for the professional and offers through a single surgery, the possibility of a quick, simple and minimally invasive treatment for the patient.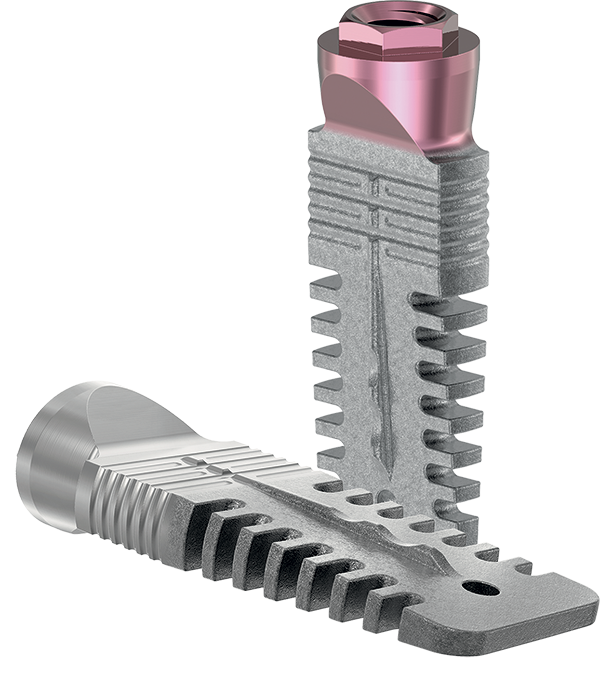 REX PiezoImplant
REVOLUTIONIZE YOUR APPROACH IN IMPLANTOLOGY WITH THE INNOVATIVE WEDGE-SHAPED FORM OF REX PIEZOIMPLANT!
SIGN UP FOR A FREE MECTRON DEMO
Book a Free hands-on in the comfort of your practice.
Improve operational success and clinical outcomes with Mectron!
REX PIEZOIMPLANT: DEDICATED TO THE DAILY PRACTICE
REX PiezoImplant design and development has always been driven by scientific research and clinical feedback.
REX PiezoImplants were invented by Prof. Tomaso Vercellotti and Dr. Alberto Rebaudi. After the initial years of development they founded the Narrow Ridge Study Group in 2012. Currently, these group members are engaged in educational activities all over the world.
REX PIEZOIMPLANT SCIENTIFIC VALUE
The first preliminary multicenter study was able to evaluate the clinical efficacy of the REX PiezoImplant concerning the treatment of thin ridges. The results obtained showed a survival rate comparable to traditional screw implants, which however require the use of techniques to increase bone volume.
REXPANDER® A STATE OF THE ART SOLUTION FOR THE EXPANSION OF THE NARROW RIDGE
The normal preparation of an implant site compared to the thin cut for a Split
Crest is equivalent to a waste of precious bone, to preserve and increase the volume bone around the implant, the innovative rexpander® technique does not remove bone tissue and allows to simplify implant placement even in the most severe horizontal defects.
DISCOVER MORE ABOUT REX PIEZOIMPLANT!
Watch the webinar "New implant shape to simplify narrow ridge treatment" by Prof. Tomaso Vercellotti available for free on our online education platform. This webinar will be a great chance to explore advantages and usage offered by this innovating implant.
Narrow ridges? Problem solved! REX PiezoImplant vs standard implant
How to manage narrow ridges in implantology?
How to preserve and increase the bone volume with the innovative rexpander® technique